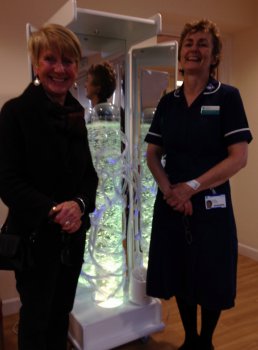 The League of Friends has purchased a "Sensory Portaire" for the Helston Community Hospital January 2014. This is a piece of equipment that helps calm confused patients. This equipment is portable and calms distressed patients by playing music, displaying pictures, lights and movements on the wall.
Sister Teresa said it has made such a difference all the staff have been impressed with the results.
This year we have purchased the following for the hospital:- 2 Nimbus 3 Mattress and Pump, Trauma Stretcher (Couch/Trolly MIU), Roof Blinds for Conservatory, 6 Soft Form Premier Mattresses, Christmas monies for patients, 4 Flo-Tech Contour Cushions, Maintenance of Aquarium in Outpatients' Waiting Room, Replacement TV in Rooms 5, 6 & 18, Sundry repairs to TVs, Plants and Bulbs for Sensory Garden, Easter Eggs, Replacement light fitting for Aquarium, replacement remote handset for TV totalling £13939.54.
We would like to say that all monies given to the League of Friends at the Helston Community Hospital goes straight into equipment for the Hospital and there are no administration fees. So please remember we can only continue to give the Hospital our support if you continue to support us.
All donations can be left at Reception at the Hospital or sent to our Treasurer Sue Atkins c/o the Helston Community Hospital, Helston TR13 8DR